Cash back credit cards can help consumers practice responsible spending while earning a little extra for their efforts when used properly. The days of earning 5 percent cash back for all credit card purchases may be nothing but a memory, but the smart use of credit cards can still be profitable for diligent spenders. You may be able to find some credit cards offering a high level of cash back in certain spending categories, but these are often subject to maximums.
Most of today's better cash back credit cards offer 1 percent to 2 percent cash back on purchases. However, if you look hard enough, you'll find a number of credit cards with higher cash rebates. Keep in mind that in order to make credit card with rewards programs worthwhile, you must pay your bill on time and in full every single month to avoid interest charges and late fees.
This ever-changing list reflects the best cash back credit cards currently available. Weighing in with his expert feedback is Curtis Arnold, CardRatings.com founder and editor in chief, and nationally recognized consumer educator and advocate. Want to learn more about any of the cards listed below? Click through to read Arnold's full reviews of these top cards.
Editor's choice

Discover it® Card-Double Cash Back your first year – CardRatings.com review. Discover recently announced a tempting offer for anyone considering a new cash-back card— they'll double all the cash back you've earned at the end of your first year automatically on this card. This offer is only intended for new cardmembers, and only available for a limited time. That applies to the 5 percent cash back in quarterly categories as well as the 1 percent cash back on all other purchases. With the new New Freeze ItSM on/off switch, you can prevent new purchases, cash advances and balance transfers on misplaced cards in seconds by mobile app and online. You can also get your free FICO® Credit Score on statements, online and by mobile app, and will pay no annual fee or foreign transaction fees.
Other cards

Chase Freedom® – CardRatings.com review. You may want to check out this offer. Chase is offering a $100 bonus for new cardmembers. You can earn this bonus after spending only $500 on purchases within the first three months of owning the card. You can earn an additional $25 cash back bonus by adding an authorized user to your credit card account and by making a purchase within this same 3-month period.
Besides these bonuses, Chase Freedom® offers 5% total cash back on up to $1,500 in combined purchases in bonus categories each quarter you activate. There are new 5% categories every 3 months like gas stations, restaurants and Amazon.com. It's free and very easy to activate your bonus each quarter. All other purchases — purchases in other categories or purchases in the 5% category beyond $1,500 — earn 1% cash back.
So while the most you can earn from the 5% bonus cash back rate is $75, your cash back at the 1% rate is unlimited. Chase Freedom® carries no annual fee.
Fidelity Investment Rewards Visa Signature Card. Fidelity's card is regularly cited as a Consumerism Commentary readers' favorite. For the first $15,000 you spend on this card in a year, you will earn 1.5 points. After you hit the $15,000 threshold, each dollar will earn 2 points. Every time you pass 5,000 points, Fidelity will deposit $50 into your account.
This card requires a linked account at Fidelity, but these accounts are free and can be good choices for savers and investors. A few years ago, I chose to rollover a former company's 401(k) into a Fidelity IRA, and I use Fidelity as the servicing company for my charitable gift fund. Their index mutual funds are some of the lowest cost in the business, but for most of my own investing I prefer Vanguard. Vanguard, however, does not offer a similar credit card offer.
Fidelity Investment Rewards American Express Card – CardRatings.com review. If you prefer a charge card — the full balance of your spending is due every month and there are no interest charges — you may like Fidelity's other offering. With the Fidelity Investment Rewards AmEx Card, you earn 2% cash back right away in the form of points, so every $2,500 you spend is deposited as $50 into your linked Fidelity account.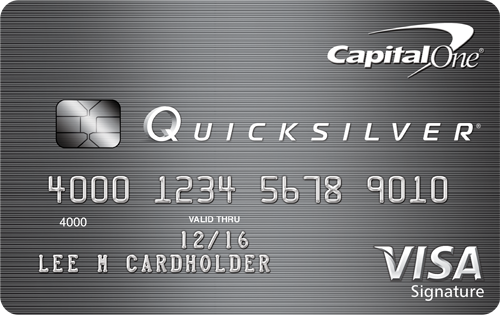 Capital One Quicksilver Cash Rewards. The basic offer for Quicksilver Cash Rewards from Capital One is a 1.5% rate of cash back on every purchase with no limit. If you are approved and open this card, Capital One currently offers a one-time $100 cash bonus if you spend at least $500 on purchases within the first three months.
Capital One is also offering an introductory interest rate of 0% on purchases and balance transfers until April 2016. Balance transfers carry a fee of 3% of the transferred balance. You'll need good to excellent credit to be considered for this credit card which carries no annual membership fee and no foreign transaction fees.

Discover it® chrome. With Discover it® chrome, you can earn 1% cash back on every purchase, but Discover offers an opportunity to earn double cash back on certain categories. The double cash back is limited to $1,000 in combined purchases, though, which adds up to only $100 extra. Still, that's $100 you wouldn't have otherwise.
The categories for double cash back with Discover it® chrome are gas stations and restaurants. In order to make using the cash back points even easier, Discover allows you to pay for items on Amazon.com using points instead of dollars. That could come in handy during the holiday seasons.

Ink Cash® Business Credit Card. Yes, this is a business card, but sole proprietors can open an account too. Not only is this a good cash back card, but it's the card I recently chose to open for a side business. Chase is currently offering new customers a $300 account cash back bonus after you spend $3,000 on purchases across the first three months from account opening.
Beyond the opening bonus, Chase offers cardholders 5% cash back on purchases at office supply stores, telephone (mobile and landline) payments, and cable and internet bills, up to a total of $25,000 in combined purchases. The next tier is a 2% cash back rate, and combined purchases up to $25,000 at gas stations and restaurants. These bonus cash back tiers include points that aren't added to your account until the anniversary of your card opening, so that's a little inconvenient.
Otherwise, all other purchases earn an unlimited 1% cash back. The card is also offering an introductory 0% APR on purchases and balance transfers for 12 months.
BankAmericard Cash Rewards™ Credit Card is a great choice if you like simplicity in a rewards program. Cardholders can earn high cash back rewards for Gas purchases (3%) and grocery purchases (2%). All other purchases earn 1% cash back.
Apart from the 0% intro APR for 12 billing cycles intro offer, this BankAmericard also highlights an online-exclusive intro perk: Cardholders can earn $100 cash back for spending $500 within the first 90 days of opening the card. As a Bank of America and Merrill Lynch customer your rewards rates are accelerated making the cash back rise between 10% and 75%.
If you're holding on to a cash back credit card that you feel deserves to make this list, let me know by leaving your thoughts in the comments below. If the offer is good, I'll add it to this best cash back credit cards list.
Updated November 16, 2015 and originally published November 4, 2014. If you enjoyed this article, subscribe to the RSS feed or receive daily emails. Follow @ConsumerismComm on Twitter and visit our Facebook page for more updates.