Today's guest on the Consumerism Commentary Podcast is Gary Belsky, author of the book Why Smart People Make Big Money Mistakes and How to Correct Them: Lessons from the Life-Changing Science of Behavioral Economics and Editor-In-Chief of ESPN the Magazine.
Gary and Tom Dziubek discuss behavioral economics and how understanding how we make decisions involving money can help us make better decisions.
If you like this podcast, please vote for us in the First Annual Plutus Awards for "Best Personal Finance Podcast." Thanks!
Consumerism Commentary Podcast #45
Production Number: S02E19
Segment Number: 62
Adobe Flash required
Download
–
RSS
–
iTunes
Table of contents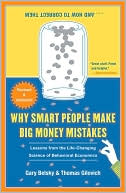 [00:00] Introduction from Flexo
[00:32] Interview with Gary Belsky
— [00:47] Gary's background
— [03:44] Behavioral economics
— [04:36] "Bonuses" vs. "Rebates"
— [06:00] Mental accounting
— [09:42] Understanding and combating your weaknesses
— [12:12] The sunk cost fallacy
— [14:06] Maximizers and satisficers
— [16:24] Ignoring the base rate
— [17:50] Self-insuring yourself through savings
— [18:24] Understanding anchoring
— [19:37] Fighting overconfidence in personal finance
[22:10] End
We always welcome feedback from listeners. If you have any comments for this episode or for any other, or if you have suggestions for future episodes, please leave us comments here or email us at podcast at this domain name.
Updated December 20, 2011 and originally published February 28, 2010.